Description
Also selling repaired Leica M9s with full sensor warranties available! Check our inventory here.
In August 2020, Leica announced that they will no longer be able to repair the Leica M9 sensor. This sensor had an issue with corrosion or "sensor rot" that was caused by oxidation of the sensor glass. Sensors are typically built with a fused clear glass that covers the BGA grid and sensor microlenses. On top of this layer, there are usually one or two UV and IR cut filters to make sure the camera only sees visible light. This whole assembly adds some bulk though, and can cause corner sharpness losses when using film lenses. We offer a thin filter service to reduce this thickness in some digital cameras when people want the best performance with film lenses, particularly rangefinder lenses. Since this issue affects Leica lenses particularly, Leica chose a different design approach in their sensors to preserve their sharpness. Leica actually uses their UVIR cut filter and fuses this to the sensor directly. This allows them to achieve the very thinnest filter stack, but also makes repairs much harder. In most cameras if you scratch the front sensor, you can remove the scratched filter relatively easily (although it still requires a camera disassembly and skill, major companies still don't do this repair locally). With the Leica sensors, a scratch or other damage meant that the whole assembly needed to be replaced. This became a particular issue when the M9 sensor glass started corroding across the board. UVIR cut glass is typically made with a Schott BG type material, which is chemically prone to oxidation. We saw this over a decade ago with our first hot mirror filters which are built with this same type of glass. Luckily, protective coatings on the glass can keep the material away from oxygen and prevent this issue, which is how we now treat our hot mirror filters.  Schott has since developed oxidation resistant glass options, like the BG60 which we used in our V2 thin filter material. Leica allegedly used an older S8612 glass (and later the BG55), chosen for its high transmission at a thin thickness, and while this glass is coated, it failed to protect this glass sufficiently to prevent oxidation, causing corrosion issues across the board. If you lived in a humid area, you probably had issues quickly, but if you were in a drier area the issue may have taken several more years to appear. Leica initially offered a good will replacement for the corroded sensors between 2014 and 2017. After that, they charged around $1,600 to replace the sensor, until stopping in August 2020.
Our Repair
That's where Kolari came in. We're happy to announce that we can repair the Leica M9 sensor and replace it with corrosion resistant glass starting at $999. We've removed Leica coverglass before, but haven't looked into this repair earlier since there was a warranty option through Leica. We found out about this recent news after a few customers emailed us asking about the repair. So we picked up an M9 with a corroded sensor, and gave it a shot. We were able to delaminate the corroded filter from the sensor, and replace it first with BG60 glass and now BG61. This glass will last indefinitely without oxidizing per Schott test reports. We can also replace the glass with our full spectrum glass making it IR and UV compatible.
PLEASE NOTE: Orders placed without rushed processing can be expected to take aproximately 3-4 weeks for completion once the camera has arrive with us.
BG61 vs the M9 Original Glass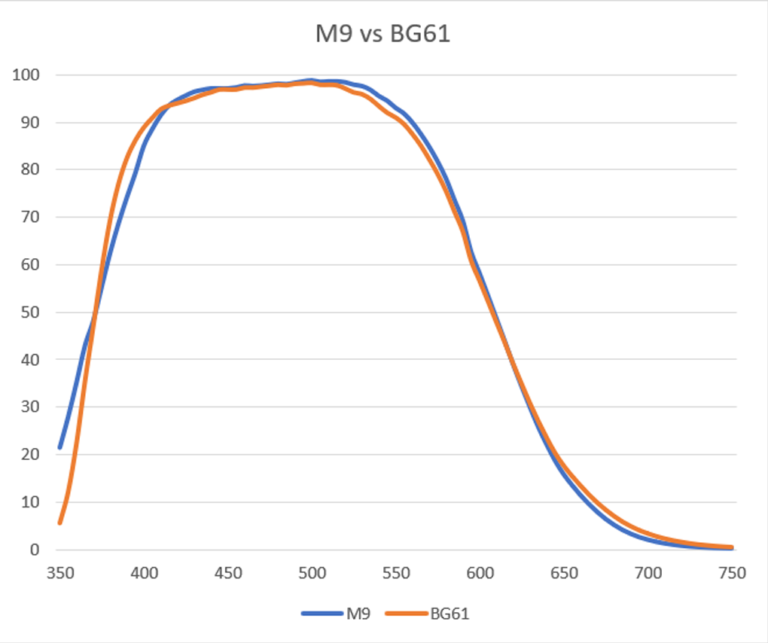 We are now using a new BG61 glass with anti-reflective coated which is nearly an identical match to the original M9 glass filter. We designed the BG61 to be the same thickness as the original filter while also matching the transmission properties. This is a highly specialized glass made by Schott that is inherently corrosion resistant, even before we put an additional protective anti-reflective and anti-smudge coating to seal from the environment. This filter cannot corrode by design, even if the coatings get scratched.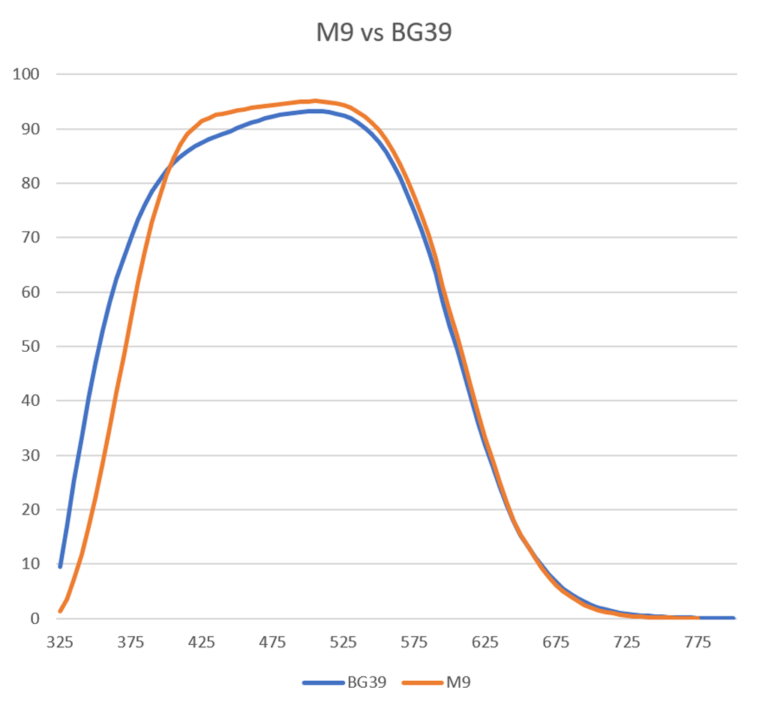 We also offer a cheaper BG39 glass with a protective anti-reflective and anti-smudge coating to seal it against corrosion. We offer this option with a lifetime guarantee against corrosion. We have this available right now at a lower price to the BG61. Color and optical performance is virtually identical to the BG61 glass, however this glass may corrode over time if the coatings get scratched or worn off.
CCD ID Number
Leica made a range of sensors throughout the lifespan of the M9's production line. CCD 11+ sensors came at a later point and did not suffer from the acid gel formation issue present in earlier models. CCD 11+ sensors have a much harder original adhesive bonding the glass to the sensor and are more time consuming to replace with Schott Glass.
CCD 15 and CCD 16 sensors were produced at the end of the M9 production and finally had the corrosion and acid gel issues addressed directly by Leica. We have never seen any CCD 15 or CCD 16 sensor/sensor glass suffer from either issue, and as such, we have no need to replace the glass with corrosion resistant Schott BG glass.
Acid Gel Formation
Earlier Sensors (CCD ID 3-8) have been discovered to suffer from a unique issue stemming from the adhesive used to attach the protective sensor glass to the sensor. This adhesive has been found to denature into an acid gel. If this gel shifts onto the bond wires that feed information from the sensor to the board of the camera, it can corrode these wires and result in permanent digital sensor failure. For more information on digital failure and how we can address this please see our sensor replacement page HERE.
It is for this reason we recommend earlier CCD ID sensors be sent in for glass replacement sooner rather than later as the change of this corrosion and subsequent failure happening has been shown to increase with time.
When we receive a Leica M9 with CCD ID number 3-8 we will inspect the sensor under a microscope to determine the level of acid gel formation and ingress onto bond wires. If we see this gel has shifted onto the bond wires we will reach out before proceeding with the glass replacement due to the higher risk involved. If the gel has not yet shifted onto the bond wires we will proceed with the repair and remove any gel present from the sensor area. This should prevent any future corrosion, and in combination with the corrosion resistant glass, should provide a full life to your Leica M9 unit. We also cover all Leica's against future glass corrosion when our Schott BG glass is used.
Disclaimer:
When working with corroded equipment, there's a high degree of risk outside of our control when performing repair services. Most of the Leica M9's we receive suffer from a heavily damaged ICF that may crack when being removed from the sensor assembly. We've also seen Leica M9s arrive with an already cracked ICF due to the corrosion issue. We're a highly skilled and capable repair shop but unfortunately, there isn't much we can do to avoid this even under extreme care. If your sensor cracks during removal there is a chance that glass dust can land on the bare sensor which can cause fine scratches that can be visible under some shooting settings.
Furthermore, we've been seeing that almost all M9's with CCD ID5 sensors are also affected by a liquid gel substance. We believe it stems from the glass adhesive that can leak onto the sensor and corrode through bond wires. This liquid gel is visible under a microscope but can't always be seen by the naked eye.
We found that even with 1-3 corroded wires, the M9 typically works without any noticeable issues after being repaired but we cannot guarantee this for every camera. If we see 1-3 corroded wires, we will continue with the repair like normal. If we see more than 3 corroded wires, we will stop the repair and let you know before proceeding.
We cannot be held liable for damages if the liquid gel spreads to your bare sensor or other bond wires during the repair service. We are also not liable for any liquid gel or electronic issues stemming from corroded bond wires after the repair service is completed in the event that it is not visible during the repair.
We don't see gel issues with M9, M-E, or M9-P models with CCD ID11 as the glue used on these sensors is different. However with CCD11 sensors, we do  see a high prevalence of cracked sensor glass. The CCD11s are more likely to crack and leave fine scratches on the sensor after the modification.
If you'd like to check what kind of sensor your Leica M9 has, you can do so by following the prompt below:
1. Enter the menu.
2. Press delete -> up (2x) -> down (4x) -> left (3x) -> right (3x) -> Info – This button combination will enter the camera into debugging mode.)
3. Select Hardware ID. Your sensor type will be the first option under this menu.
 Lastly, some repairs are not possible (or very high risk) because of an extremely strong bond that can not be softened for a safe filter removal. When we receive your camera, we will perform a full evaluation and see if the repair is feasible, and if there are any digital issues, or issues that will make your sensor repair high risk (for example existing cracks in the sensor glass, gel issues, etc). If we find that we cannot repair your camera, or consider it a high risk repair, we will stop the repair process, reassemble your camera, and notify you for approval to continue with the repair or return the camera as-is. In the event that we can not move forward with your repair for any reason, we will return your camera and process a refund  for your repair minus fees. Fees include a $100 evaluation fee, a 5% processing fee, and return shipping costs.
We've also been noticing that some Leica sensors are affected by electronic failure. Unfortunately, this repair will not fix this. You will need a complete sensor replacement. This issue is typically caused by a corrosive gel that can dissolve the sensor bond wires. Here's an example of what electronic sensor failure looks like below: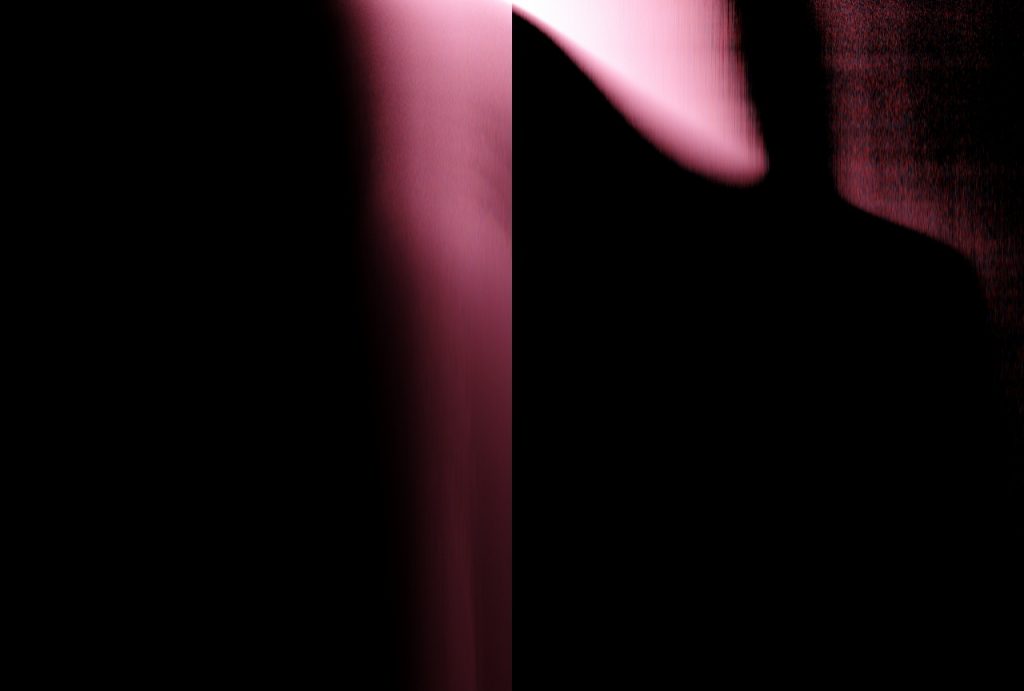 By purchasing you agree to our Terms of Purchase