Description
This is a replacement of the entire sensor stack. This service will replace the stack with a fully functioning Leica CCD sensor including our corrosion resistant BG glass of choice.
This service fixes the dreaded failed sensor, half screen, or "purple curtain" type failures, that can look like a fully or half dead screen, or like the effect shown below. If your sensor only has spots, you most likely only need our corroded sensor glass replacement services which can be found HERE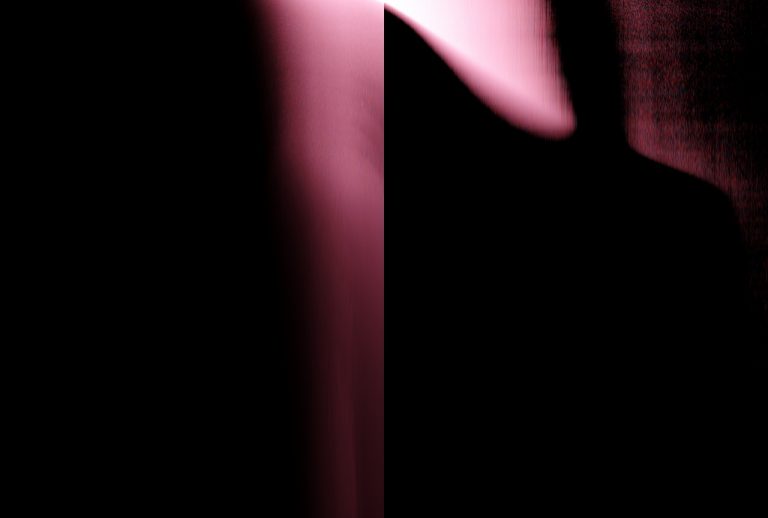 CCD ID Number
Leica made a range of sensors throughout the lifespan of the M9's production line. CCD 11+ sensors came at a later point and did not suffer from the acid gel formation issue present in earlier models. CCD 11+ sensors have a much harder original adhesive bonding the glass to the sensor and are more time consuming to replace with Schott Glass.
We are also able to install CCD 15 or CCD 16 sensors. These sensors were produced at the end of the M9 production and finally had the corrosion and acid gel issues addressed directly by Leica. We have never seen any CCD 15 or CCD 16 sensor/sensor glass suffer from either issue, and as such, we have no need to replace the glass with corrosion resistant Schott BG glass. If you opt in for a replacement to a CCD 15-16 sensor you will receive an original corrosion proof Leica sensor with fully stock Leica protective sensor glass.
Acid Gel Formation
Earlier Sensors (CCD ID 3-8) have been discovered to suffer from a unique issue stemming from the adhesive used to attach the protective sensor glass to the sensor. This adhesive has been found to denature into an acid gel. If this gel shifts onto the bond wires that feed information from the sensor to the board of the camera, it can corrode these wires and result in permanent digital sensor failure as shown in the image above.
It is for this reason we recommend earlier CCD ID sensors be sent in for glass replacement sooner rather than later as the change of this corrosion and subsequent failure happening has been shown to increase with time.
When we receive a Leica M9 with CCD ID number 3-8 we will inspect the sensor under a microscope to determine the level of acid gel formation and ingress onto bond wires. If we see this gel has shifted onto the bond wires we will reach out before proceeding with the glass replacement due to the higher risk involved. If the gel has not yet shifted onto the bond wires we will proceed with the repair and remove any gel present from the sensor area. This should prevent any future corrosion, and in combination with the corrosion resistant glass, should provide a full life to your Leica M9 unit. We also cover all Leica's against future glass corrosion when our Schott BG glass is used.
Our Repair
That's where Kolari came in. We're happy to announce that we can repair the Leica M9 sensor and replace it with corrosion resistant glass starting at $999. We've removed Leica coverglass before, but haven't looked into this repair earlier since there was a warranty option through Leica. We found out about this recent news after a few customers emailed us asking about the repair. So we picked up an M9 with a corroded sensor, and gave it a shot. We were able to delaminate the corroded filter from the sensor, and replace it with BG60 glass. This glass will last indefinitely without oxidizing per Schott test reports, and also allows us to reduce the Leica sensor stack by 0.2mm, further improving on its excellent corner sharpness. We can also replace the glass with our full spectrum glass making it IR and UV compatible.
BG61 vs the M9 Original Glass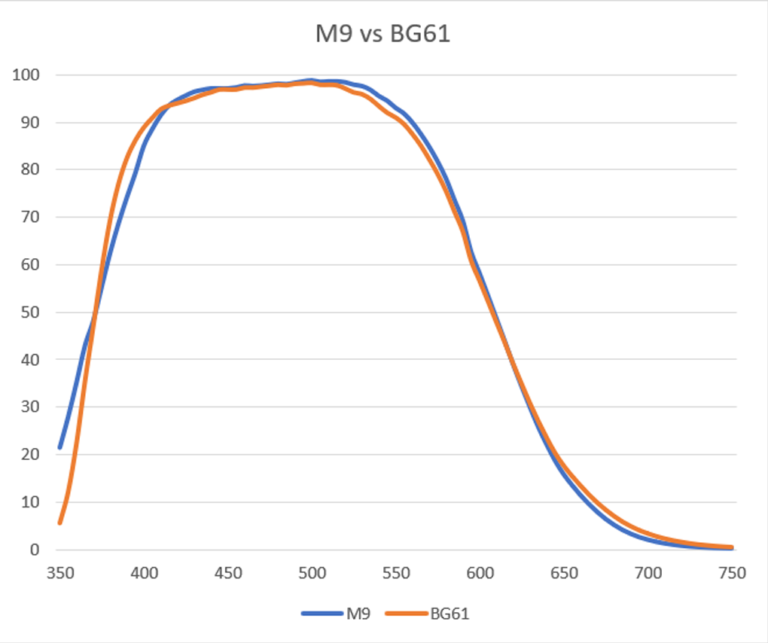 We are now using a new BG61 glass with anti-reflective coating, which is nearly an identical match to the original M9 glass filter. We designed the BG61 to be the same thickness as the original filter while also matching the transmission properties. This is a highly specialized glass made by Schott that is inherently corrosion resistant, even before we put an additional protective anti-reflective and anti-smudge coating to seal it from the environment. This filter cannot corrode by design, even if the coatings get scratched.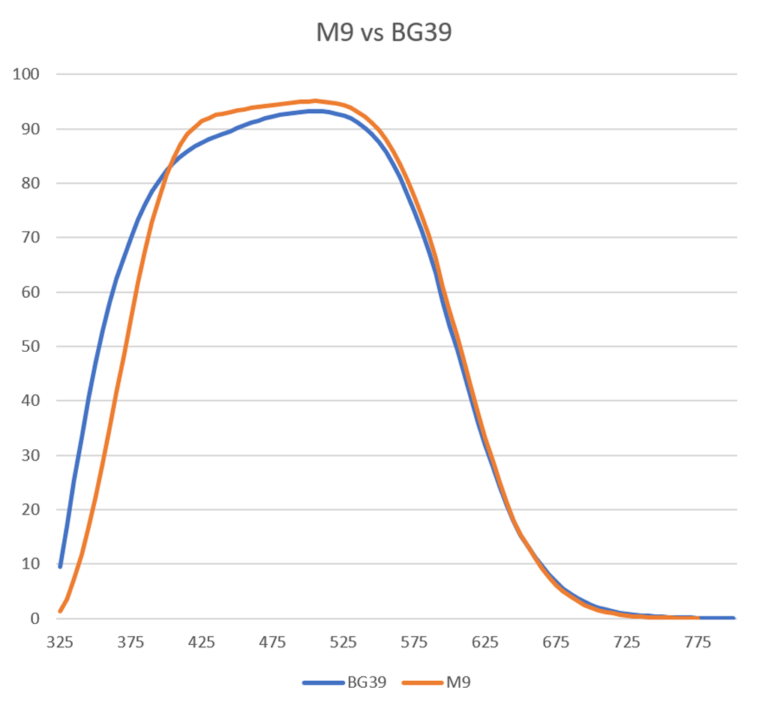 We also offer a cheaper BG39 glass with a protective anti-reflective and anti-smudge coating to seal it against corrosion. We offer this option with a lifetime guarantee against corrosion. We have this available right now at a lower price to the BG61. Color and optical performance is virtually identical to the BG61 glass, however this glass may corrode over time if the coatings get scratched or worn off.
By purchasing you agree to our Terms of Purchase