Description
Our all-new Kolari Vision Pro UV/IR Cut Filter (H-Alpha Pass) helps prevent color casts and unwanted IR leaks for CMOS and CCD in situations where the original UV/IR still lets some IR light pass. This filter has a similar transmission to our UV/IR Cut Hot Mirror Filter, but with an expanded spectral response covering the H-alpha and sulfur II emission lines making it also useful for Astrophotography when used with a Full-Spectrum converted camera. When used with a full spectrum converted camera, these filters will provide a greater than 4 fold increase in sensitivity in the H-alpha line compared to a stock camera and a greater than 6 fold increase in sensitivity in the sulfur II line. Our UV/IR Cut (H-Alpha Pass) also filter comes in either our standard or our Pro Gen 3 Brass filters rings.
Perfect for blocking unwanted UV and IR light, this filter can be used as a protective filter as it exhibits no color cast and no exposure correction. Perfect for cameras with a weak IR cut filter, or when using ND filters that do not cut out IR light. Made with Schott B270 optical glass for exceptional clarity and sharpness, this filter is available in either a standard aluminum ring, or our pro brass ring.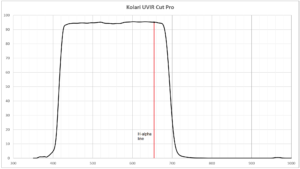 Features
IR and UV blocking filter with enhanced H-alpha & sulfur II transmission
Completely color neutral for no color cast on a standard digital camera or video camera
Wide angle compatible
No exposure compensation factor
Anti-reflective (AR) coated to increase light-transmission and reduce flare and ghosting
Slim filter ring for reduced vignetting when using wide-angle lenses or when stacking filters (on pro rings)
Front and rear threaded unlike other slim filters
6061 aircraft aluminum construction for a light and strong ring on standard, high friction grip slim brass ring in the pro version.
By purchasing you agree to our Terms of Purchase