Description
Introducing our new Swirl Bokeh Drop-in Filter for Canon's EF to RF Drop-in Filter Adapter!
Our Swirl Bokeh filter is capable of producing dreamy blurred backgrounds for images where you want the subject to fully stand out from the background. Our Swirl Bokeh Filter fits perfectly into Canon's RF to EF Drop-in Filter Adapter and allows you to easily use the filter across multiple modern lenses.
The term Bokeh comes from the Japanese word "bokeru," which means blur or haziness. In modern photography, it directly refers to the way the out of focus areas of an image are rendered by a lens. The "swirl" bokeh effect is usually the result of a defect and poor focusing on a specific lens. Modern professional lenses are not affected by these defects and will never produce the rare "swirl" bokeh effect.
Many photographers chase the rare classic swirl bokeh effect by purchasing older, vintage lenses but there is now no need to purchase additional lenses as long as you have Canon's RF to EF Drop-in Adapter and our Swirly Bokeh Drop-in Filter!
We are currently offering our Swirl Bokeh Filter in two variations. (1x & 2x)
The 1x will produce a great swirly bokeh while the 2x produces a more dramatic iteration of the effect.
All of our Drop-In filters are compatible with Canon's Drop-In adapter system as well as our own.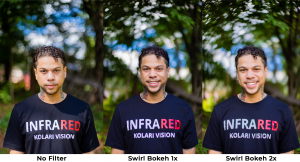 Example Photo Shot w/ Canon 50mm 1.4 Lens
Recommended for use on portrait lenses. (Focal ranges under 35mm will require extremely close focus distance.) 
Focus distance recommendation:
1X – works best @ 1 to 4 feet distance from your subject.
2X – works best @ 1 to 2 feet distance from your subject.
The effect can vary depending on the lens used and also the distance between your camera and your subject.
By purchasing you agree to our Terms of Purchase