The first step in choosing a camera for infrared photography is deciding what type of camera works best for you. There are three major varieties of digital cameras: point-and-shoot, DSLRs, and mirrorless.
Below, we will go over the pros and cons of each type of camera.
Point-and-shoot cameras are a great starting point for infrared photography. They are small, easy to use, and inexpensive. Their small, lightweight form makes them perfect for travel, and they can easily be stored in your pocket or in a camera bag alongside a larger camera.
They're mighty capable for beginners, but the image quality may be insufficient for more serious photographers or quality prints.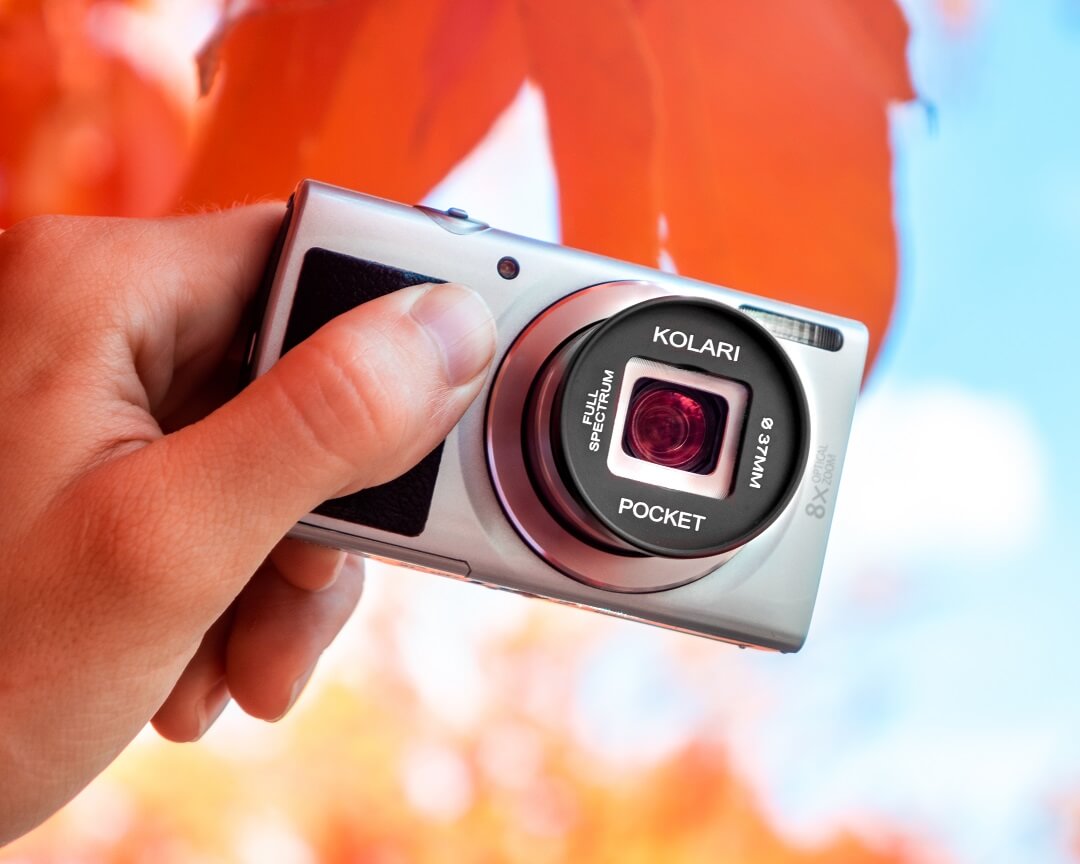 Pros
Infrared converted point-and-shoot cameras have accurate autofocus through the entire zoom range of the lens. Since the camera uses just one sensor for imaging and metering, IR light meters as accurately as visible light does on an unconverted camera. Like a mirrorless camera, you can also preview how the scene will look in infrared via the system's live view and viewfinder. Unlike a DSLR, point-and-shoot cameras can compose, focus, and meter via the viewfinder even after adding an opaque infrared filter in front of the lens.
Cons
One of the most significant downsides to using point-and-shoot cameras is their small sensor size and even smaller pixels. These small pixels have higher noise levels and smaller maximum true resolution. Infrared photography can have increased noise, which will be much more noticeable with a point-and-shoot camera.
Due to the smaller sensors and lower resolution than DSLR and mirrorless cameras, it is not recommended to print large images from photos taken on point-and-shoot cameras. If you're looking to print images and need a camera with better image quality, we recommend going with a DSLR or mirrorless camera, especially if you want to take professional IR images.
(Many point-and-shoot cameras do not come with filter threads and will require a filter adapter to mount external lens filters to the lens.)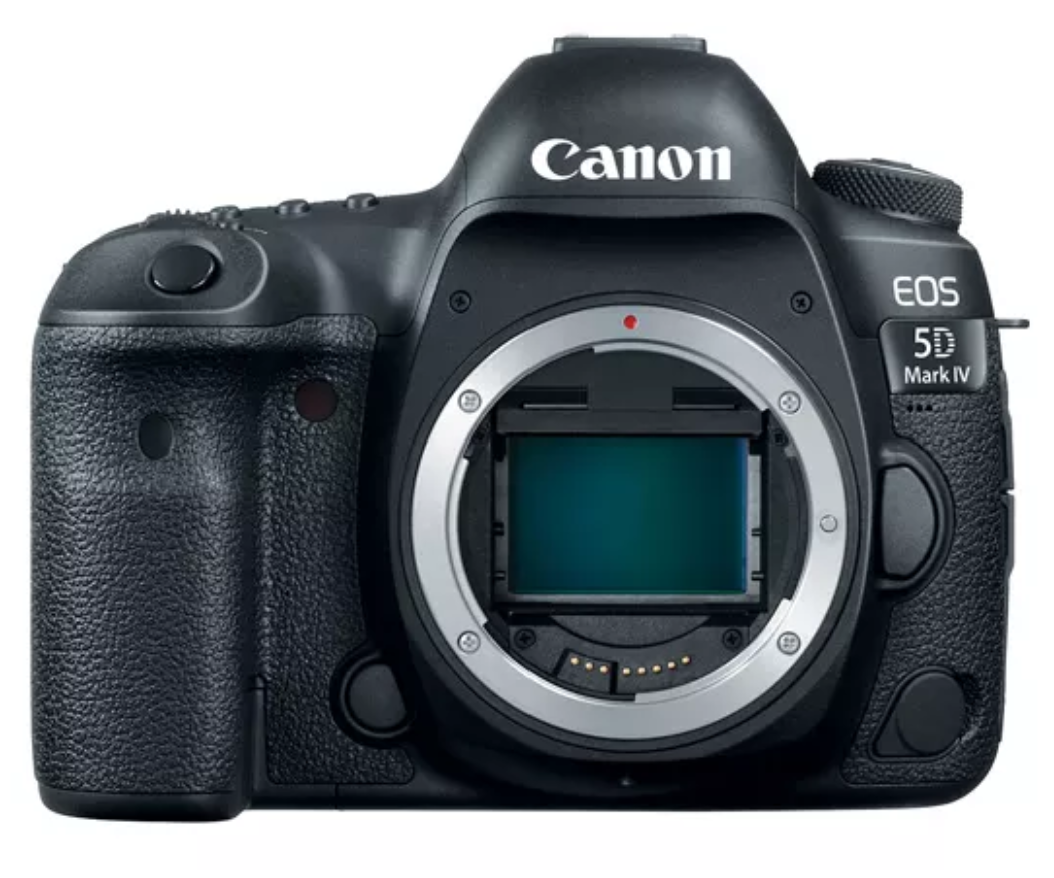 Converting a DSLR camera to IR or full spectrum is a great way to bring new life into an old camera. They can take high-quality infrared images while touting the flexibility of interchangeable lenses, manual settings, and RAW files. Whether you want to shoot IR landscapes, print your images, or dabble in a new hobby, DSLR cameras are very effective for both intermediate and professional photographers.
Pros
DSLR cameras produce very high-quality infrared images. They do not have the resolution or noise issues of point-and-shoots and can be used for vivid color infrared photography. They offer the flexibility of multiple lenses, more manual control options, and customizable menu settings.
The many lenses available for DSLR cameras allow you to play with different focal lengths. Whether you're looking to shoot wide-angle or telephoto IR images, you'll be sure to find a lens tailored to your shooting style. You'll also be able to shoot panoramas, time lapses, HDR, and in most cases, high-quality videos that look great on desktops and mobile devices.
Cons
While the image quality is better, DSLR cameras have their own set of problems when it comes to infrared photography. These problems stem from using separate sensors for auto-focus, exposure, and imaging. Glass usually bends wavelengths of light in different amounts, so some lenses will exhibit a focus shift when shooting in IR.
For a camera to auto-focus properly after an infrared conversion, we use custom glass filters for each specific camera model with the appropriate thickness required to compensate for the focus shift. While this works very well for point-and-shoot and mirrorless cameras, it does not work universally across all lenses when using an IR converted DSLR.
Since DSLRs focus with a different sensor than the imaging sensor (which still focuses to visible light after a conversion) when using the viewfinder, the camera cannot automatically compensate for a lens with an irregular IR focus shift. Using a lens with an irregular focus would then require stepping up the aperture, manual focusing, or having the camera calibrated for that specific lens during the conversion service.
DSLRs additionally use this secondary sensor for exposure controls. The 720nm filter usually requires an exposure consistent with visible light and provides properly exposed images. Sometimes, particularly with other filters, the visible and infrared light in a scene differs, so exposure compensation is necessary.
Another issue with DSLRs and infrared photography is the inability to use the viewfinder when using an opaque filter on the lens. Not only does this prevent the use of the viewfinder, but it also causes problems with auto exposure and autofocus, which both utilize visible light.
However, all these problems can be avoided if the DSLR has a live view function. When using live view, the camera uses the imaging sensor for autofocus, exposure, and preview, resulting in flawless infrared performance.
As time progresses, mirrorless cameras are becoming the new industry standard for both IR and visible light photography. Moving forward, most camera manufacturers are dedicating their efforts to putting more mirrorless cameras on the market while discontinuing the production of older DSLR models.
Systems like the Canon R lineup, Sony's coveted A7 series, and many other mirrorless camera models from the big brands combine the best features of point-and-shoot and DSLR cameras for infrared photography.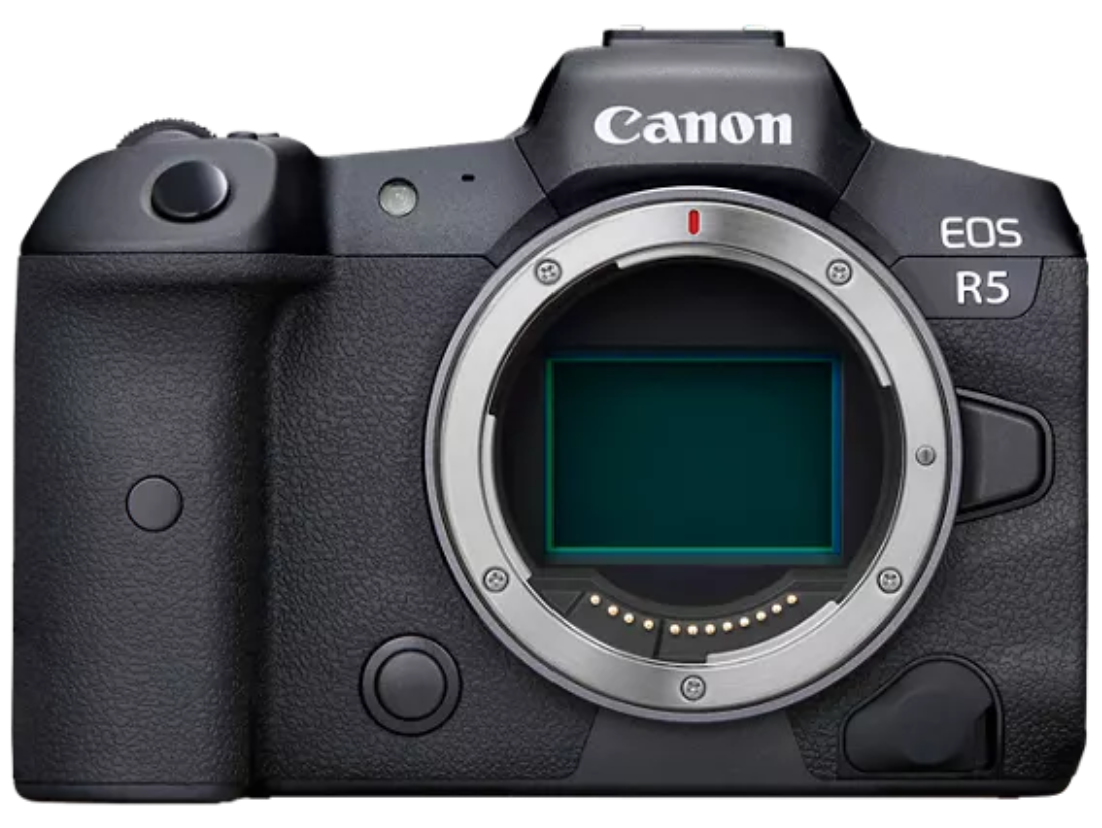 There's a plethora of mirrorless cameras to choose from, and many new models are being released every couple of months. Whether you're a fan of Canon, Sony, Nikon, Fujifilm, Olympus, Panasonic, or anything in between, you'll be sure to find a camera that suits your IR needs.
Pros
Mirrorless cameras use the same sensor for imaging, focusing, and metering, making them capable of accurately composing, autofocusing, and exposing IR images within the viewfinder and live view. This also means that, unlike DSLR cameras, external IR lens filters can be used without affecting any of these features.
Additionally, these cameras use APS-C, mirrorless, or medium format sensor sizes, which do not have the noise or resolution problems most point-and-shoots have. Technology is advancing faster than ever before, resulting in features that have never been made available to DSLR cameras, like 8k video, IBIS, etc. Each of these features will work regularly in IR.
They're usually much smaller and lighter than DSLR cameras, making them great to travel with and easier to carry for extended periods. Additionally, it is much easier to use adapted lenses with mirrorless cameras, giving you access to a large army of optics that include both new and vintage lenses as long as you use the appropriate adapter.
Not too long ago, we also released our Kolari Magnetic Clip-in Filters, which allow you to place filters behind the lenses of Canon, Sony, Nikon, and Fujifilm mirrorless cameras. This allows photographers to use one filter across multiple lenses with varying diameters resulting in money saved and less clutter from having to purchase multiple sizes of the same lens filter. 
| | | | |
| --- | --- | --- | --- |
| | | Some lenses (when not using live view) | |
| | | Occasionally (when not using live view) | |
| | | | |
| | | | |
| Compose via Viewfinder with External IR Filters? | Yes, if they can be mounted | | |
| | | | |
| | | | |
| | | | |