Getting started with multispectral imaging presents many challenges. You may find yourself wondering which camera, lens, and filter combinations work best while finding that there isn't much information available online. If you're interested in putting together a multispectral imaging kit, read along for our complete UV & IR Forensic Photography Equipment Considerations Guide.
When it comes to taking UV & IR images, your equipment can either save you hours of work or really slow down your overall workflow. Our goal at Kolari Vision is to educate professionals on how to put together a multispectral imaging setup that will complement their workflow while simplifying the approach to capturing ultraviolet and infrared images. 
Commercial forensics photography packages are expensive and limited. The most prominent supplier is Fuji, but they have often offered packages that are not fully compatible with infrared and UV photography. For example, their IS-PRO fixed lens forensics camera was built around a lens with crippling IR artifacts. Their professional XT-1 multispectral camera kit was supplied with a UV bandpass filter that was incompatible with digital UV capture and a UV/IR blocking filter that did not capture accurate visible light. 
Many professionals find that opting in for commercial forensics photography packages often lack the capabilities and equipment required to easily take UV, visible light, and IR images with one camera. 
The other approach is to use consumer cameras and 3rd party equipment and build your own multispectral imaging kit, which requires some specialized knowledge. We specialize in presenting equipment considerations around camera, lens, filters, and light sources to ensure accurate capture of the target wavelengths. 
In this article, we will review using general purpose lenses for UV and IR photography while going over the limitations that need to be considered to successfully capture UV and IR. Most importantly, we will go over how to perform multispectral photography on a budget, as well as present a ready-to-go kit built from the ground up for this type of imaging.
Forensic photography and UV photography
Ultraviolet photographs are able to give more insight to areas of injury and crime scenes by providing more contrast and detail compared to normal lighting techniques. There are two main UV photography techniques: reflective UV imaging & fluorescent UV imaging.
Reflective UV imaging involves flooding a subject with UV light and using a UV bandpass filter to block all light returning to the camera except UV resulting in a true UV image.
When performing fluorescent UV photography, the subject is flooded with UV light while using a normal camera or UV/IR cut filter to block the UV rays. This results in the ability to see which areas of the subject fluoresce under UV light. 
Both of these techniques present wounds in much finer detail than possible with regular digital cameras. They reveal areas of injury that normally could not be seen to the naked eye and are a great addition to any forensic crime scene workflow in terms of gathering evidence.
IR Photography & Forensics
There are many uses for IR photography when it comes to forensics. Much like UV, IR photography can be used to uncover subjects and details not usually visible to the naked eye.
For example, IR photography can be used to visualize gun shot residue, tattoos, forgery, counterfeiting, and even aid in document recovery. IR imaging and lighting are also useful for night photography and are a part of many security cameras all around the world. Security cameras use IR light to illuminate an area while the light is invisible to us. This allows for security cameras to be placed in dark or dangerous areas without drawing attention.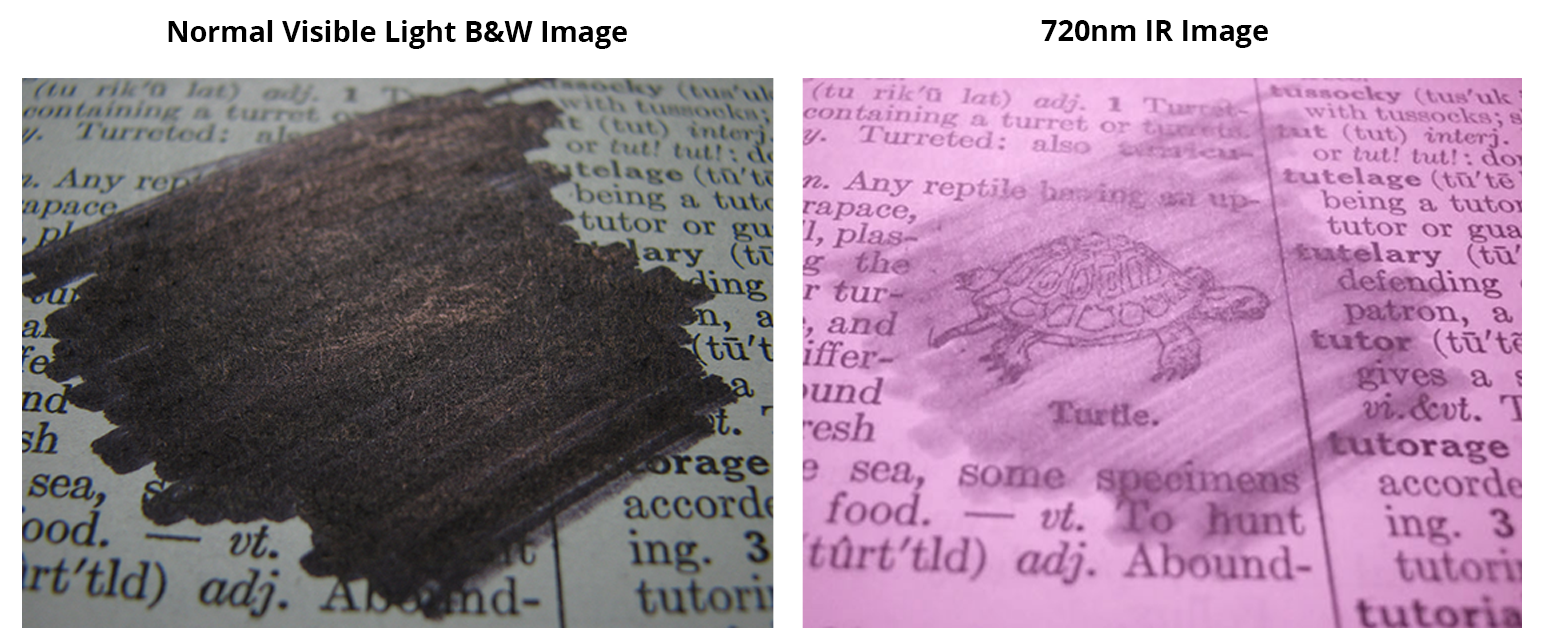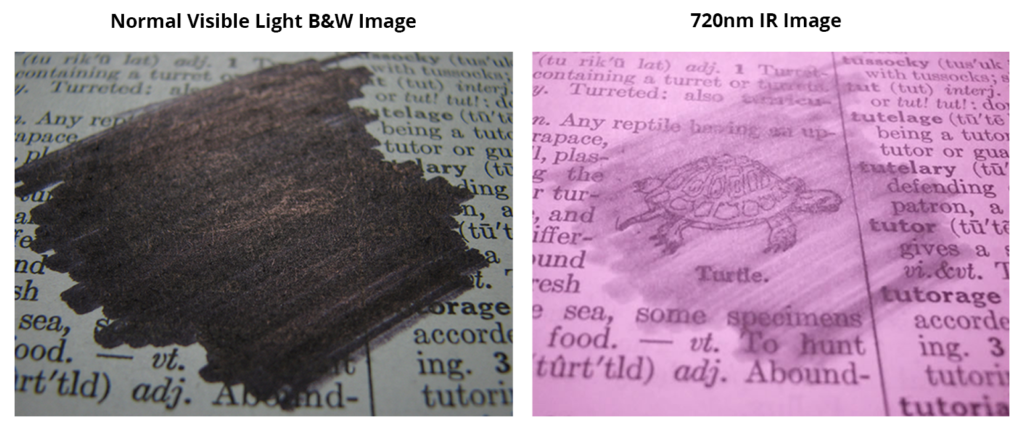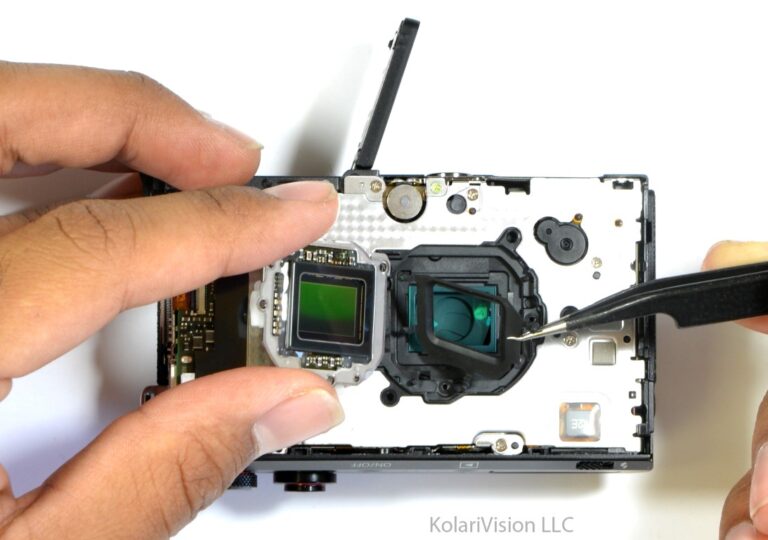 A full spectrum camera conversion is a modification which involves the removal of the camera's internal UV/IR cut filter and replacing it with a clear filter, making the camera sensitive to UV, visible, and IR light. The main benefit of full spectrum is that it allows you to put external filters on the lens to narrow the sensitivity to a certain range. 
Using lens filters will allow you to perform both UV & IR photography with your full-spectrum converted camera. Alternatively, using a UV/IR cut hot mirror filter, you can use the camera to take normal pictures. This means that you'll be able to perform UV, visible, & IR photography all with one camera.
A full-spectrum conversion has the ability to turn most consumer & professional grade digital cameras into multispectral imaging machines without having to invest tens of thousands of dollars into commercial solutions.

UV & IR lens filters can be used in conjuction with full-spectrum converted cameras to shoot specific wavelengths. These filters thread on to the front of your lens and can be added or removed as needed allowing for maximum flexibility out of your multispectral imaging set up.
Our UV Bandpass Filter completely blocks all visible light allowing you to take true UV reflective images. This filter is centered at 365nm and is compatible with most UV light solutions on the market. Perfect for detecting liquids, injuries, and many other crime scene subjects.
Two of the most useful IR filters for forensics are the 720nm IR filter & 850nm IR filter. They add a great increase in contrast and detail not normally seen by the naked eye and can be used for a range of applications including detecting gunshot residue, tattoos, forgery, counterfeiting, and etc.
As previously mentioned, another important filter to consider is our UV/IR Cut Color Correcting Hot Mirror. This filter reverts a converted camera back to stock and will allow you to take normal images again.
The first step in choosing a camera for UV & IR photography is deciding what type of camera is best for you. There are three major varieties of digital cameras: point and shoots (pocket and fixed lens type), DSLRs, and mirrorless cameras.
Below, we will go over the pros and cons of each type of camera.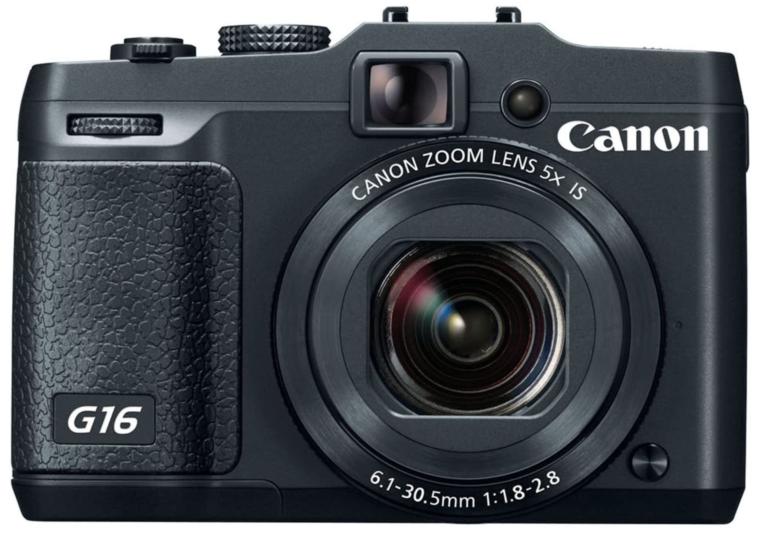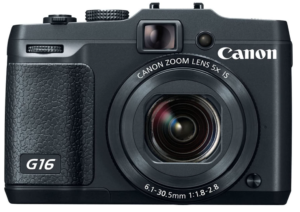 Point and shoot cameras are a great starting point for infrared photography. They are small and cheap, a perfect solution for a beginner or professional who simply needs a small portable IR camera. They are ideal for keeping in your pocket or alongside a bigger camera in an equipment bag. 
Unfortunately, many point and shoot camera lenses include anti-UV coatings and are not compatible with UV photography.
With converted point and shoots, the camera will have accurate autofocus through the entire zoom range of the lens. Since the camera uses just one sensor, it will expose properly, every time. 
You can also preview the way the scene will look directly in infrared on the viewfinder. Another benefit is that adding another infrared filter in front of the lens still allows you to compose, focus, and get proper exposures, even if the filter is visually opaque thanks to live-view. 
The biggest downside of point and shoot cameras is their small sensor and small pixels. These smaller pixels have higher noise levels and smaller maximum true resolution. Infrared images usually have an increased amount of noise, which will be more evident with a point and shoot camera.
Another issue with point and shoots is the resolution. While manufacturers advertise a larger megapixel count, it is important to understand that this is only a measure of the total pixels, not the resolution. As the size pixels need to be to fit on a tiny sensor, they are smaller than the photons available. There are only so many light photons that can fit per sensor area, giving a limit on resolution possible, regardless of number of pixels there to record the information.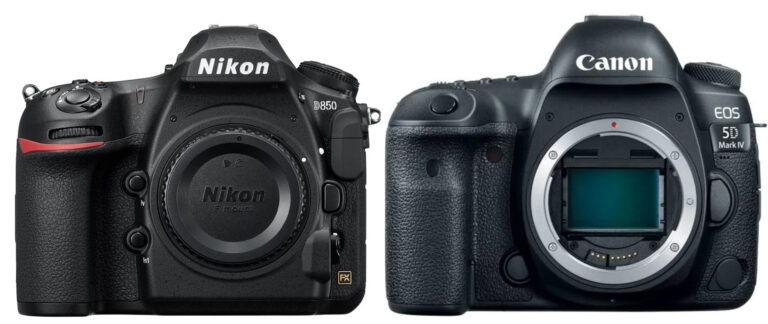 Consumer & professional DSLR cameras are able to produce high quality ultraviolet & infrared images. Converting a DSLR camera to full-spectrum is a great way to start taking professional level forensic multispectral images.
The Pros: 
They do not have the resolution or noise issues of point and shoots and offer the flexibility of using multiple lenses and more manual setting control options. The ability to use multiple lenses will allow you to take advantage of older lenses which usually do not contain anti-UV coatings. 
The Cons:
While image quality is better, they have their own set of problems for UV & IR photography that stem from using a separate sensor for auto-focus and exposure and imaging. 
DSLRs use a secondary sensor for exposure controls. The 720nm filter usually requires an exposure consistent with visible light, and provides properly exposed images. Sometimes, particularly with other filters, the visible and infrared light in a scene aren't the same, and an exposure value (EV) has to be dialed in to compensate. 
Another problem with multispectral photography is using an opaque filter on the lens. This prevents the use of the viewfinder and causes problems with auto exposure and autofocus, which all utilize visible light. 
If the DSLR has live view, however, all of these problems can be avoided. When using live view, the camera uses the imaging sensor for autofocus, exposure, and preview, resulting in flawless infrared photography performance.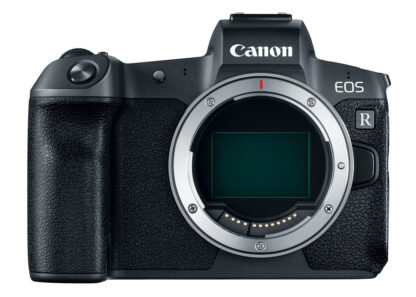 Mirrorless cameras like the Sony E-mount system, Canon RF-mount system, Nikon Z-mount system, and Olympus/Panasonic Micro 4/3rds systems combine the best features of point and shoots and DSLRs for UV & IR imaging. Large sensor point and shoots share these same benefits. 
Mirrorless cameras will autofocus and expose pictures accurately with ease due to the fact that they use only one sensor for autofocus, imaging, and exposure detection. 
External IR filters can be used on the lens without affecting any of these features. Additionally, most of these cameras use a larger full-frame sensor which do not have the noise or resolution problems that point and shoots have. 
In our opinion, mirrorless cameras are hands-down the best cameras to consider when building your own multispectral imaging solution. 
Building Your Multispectral Imaging Kit Made Easy!
Step 1. 
Purchase a camera and convert it to full-spectrum. Consider your area of interest, subject, and lens performance when choosing a camera. You can also purchase already converted cameras from us here. 
Step 2. 
Purchase UV & IR lens filters that fit your lens thread size. You will also want to look into UV & IR lighting accessories to complement your setup. Most UV lighting is centered at 365nm, while most IR lighting is centered at 850nm. You can check out our filter catalog here.
Step 3. 
Start taking UV & IR images! 
Your complete multispectral imaging kit should include the following: A full-spectrum converted camera, a UV & IR compatible lens, UV & IR lens filters, and an external UV or IR lighting solution.
Recommended Cameras
Canon: Canon EOS RP, Canon EOS R, Canon EOS R5, Canon EOS R6, Canon EOS 5D MK IV, Canon EOS T7, Canon EOS T6i, Canon EOS T100
Nikon: Nikon Z6, Nikon Z7, Nikon D850, Nikon D800, Nikon D750, Nikon D700, Nikon D3500, Nikon D5600, Nikon D7100, Nikon D7200
Sony: Sony A7, Sony A7II, Sony A7III, Sony A7R, Sony A7RIV, Sony A6000, Sony A7S, Sony A7SII, Sony A7SIII
Even though Sony cameras make great multispectral imaging systems, there aren't many IR hotspot free or UV compatible lenses available for them.
Recommended Lenses for UV Photography
Canon: EF 50mm 1.8, EF 35mm 1.8, Yongnuo EF 50mm 1.8, Yongnuo EF 35mm 1.8, EF-S 60mm Macro Lens
Nikon: Nikon AF 50mm F/1.8D, Nikon 50mm F/1.8 Series E, Nikon 35mm F/2.5 Series E : 
Sony: Unfortunately, we have not yet found any Sony lenses that are compatible with UV photography. Most users adapt Canon and Nikon lenses to their Sony bodies when performing UV photography. If you've ever tested a Sony lens that works for UV, feel free and let us know, and we'll update this article accordingly. 
Click here to check out our UV compatible lenses testing article.
Recommended Lenses for IR Photography
Canon: EF 400mm f/5.6 L, Tamron EF 28-300mm f/3.5-6.3, EF 24-70mm f/4 L (mark 1 only), EF 100-400 f/4.5-5.6 L, EF 70-200 f/4 L (non-IS version), EF 16-35 f/4 L IS, EF 11-24 f/4 L, EF 35mm f/2, EF 40mm f/2.8, EF 50mm f/1.2L, EF 50mm f/1.8, EF 24mm f/1.4 L, EF 14mm f/2.8 L, EF 135mm f/2 L, EF 300mm f/2.8 L IS (Ver. I)
Nikon: Nikon 18 mm f/3.5 AI-S, Nikon 18-55 mm f/3.5-5.6 G AF-S DX ED, Nikon 18-135mm f/3.5-5.6G ED-IF AF-S DX, Nikon 24mm f/2.8 AI-s, Nikon 50 mm f/1.8 AF *, Nikon 70-300 mm f/4.5-5.6 G ED-IF AF-S VR, Nikon 105mm f/2.8G AF-S VR IF-ED
Sony: Sony FE 50mm f/1.8, Sony E 55-210mm F4.5-6.3, Sony FE 70-200mm f/4 G OSS, Sony Vario-Tessar T* FE 24-70mm f/4 ZA OSS, Sony E Zeiss T* 24mm F1.8 ZA, Sony Vario-Tessar T* FE 16-35mm f/4 ZA OSS (Good to f/16 at 35mm, good to f/5.6 at16mm), Zeiss 55mm f/1.8, Tamron 10-24mm
Click here to check out our Lens Hotspot Database for a list of good and bad performing lenses for IR photography.
F.A.Q about Forensic photography
A good camera for forensic photography is Canon EOS RP