Description
Our industry leading Infrared lens filters, perfected.
We've taken our market leading infrared lens filter glass and upgraded it to meet the demands of our professional clients. Our Anti-Reflective, Anti-Smudge, High-transmission IR glass is now fitted with precision machined brass rings, enhanced grip, and a superior lifetime warrantied construction while maintaining a low profile over your lens. Like our Gen 2 glass, these filters are coated with an ultra-smooth, hydrophobic AR coating that increases scratch resistance and causes dust, smudges, fingerprints, water, and even permanent marker to slide right off its surface with minimal effort.
These external infrared filters are perfect for adding to a full spectrum conversion or on top of another infrared conversion to get a different effect. These are high quality polished optical glass IR filters, each with standard front and back threads.
These professional grade filters are our finest filters to date. All of our pro filters are Anti-Reflective and Anti-Smudge coated and come in our low-profile brass filter ring.
Features
Anti-reflective (AR) coated to increase light-transmission and reduce flares and ghosting
Hydrophobic, dust resistant, scratch resistant, anti-smudge surface
Effortless cleaning
Slim filter ring for reduced vignetting when using wide angle lenses or when stacking filters
Front and rear threaded unlike other slim filters
Brass ring construction for superior lens threading
Aggressive grip knurling for easier filter removal
Attention: The 550nm, 590nm, 665nm, and Blue IR filters require a converted camera to produce the desired visual effect!
Filters available: 550nm infrared filter, 590nm infrared filter, 665nm infrared filter, 720nm infrared filter, 780nm infrared filter, 850nm infrared filter, 930nm infrared filter, 1000nm infrared filter, and Blue IR Infrared Filter.
Transmission Curves (Standard and Pro AR Coated Filters)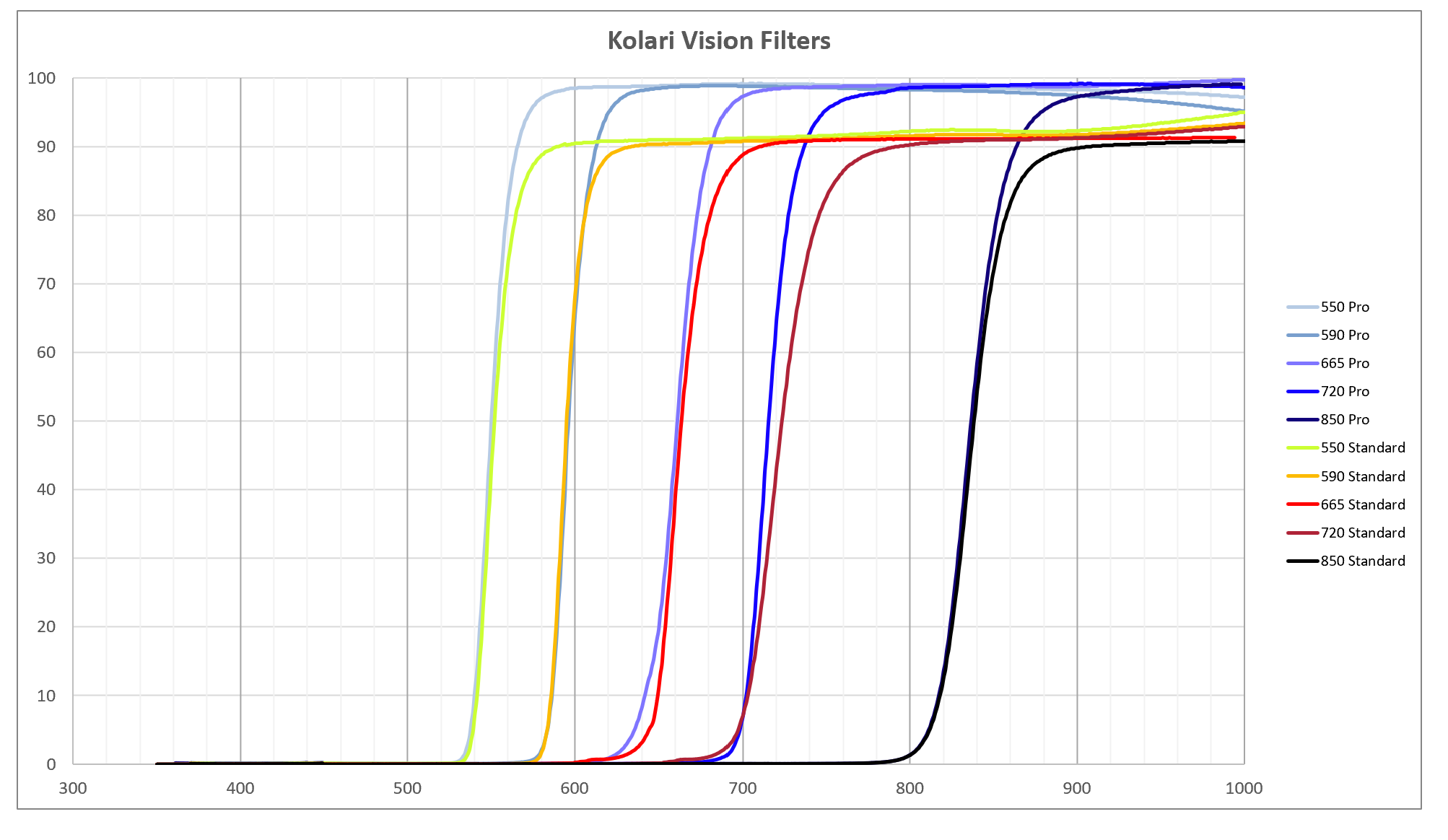 By purchasing you agree to our Terms of Purchase