As a girl I would linger hours in a fantasy world of faraway galaxies, cloud gazing, enchanted forests, and so on. Growing a bit older I immersed myself in the worlds of books and music, keeping company with words and rhythms. Then at some point in my teens I came upon my father's old 1960's Kodak Instamatic camera (I still have it, teeny negatives), and would drive into the mountains or down to a lake shooting photos of landscapes. Finally, after college graduation, I met my first SLR and off we went to see the world.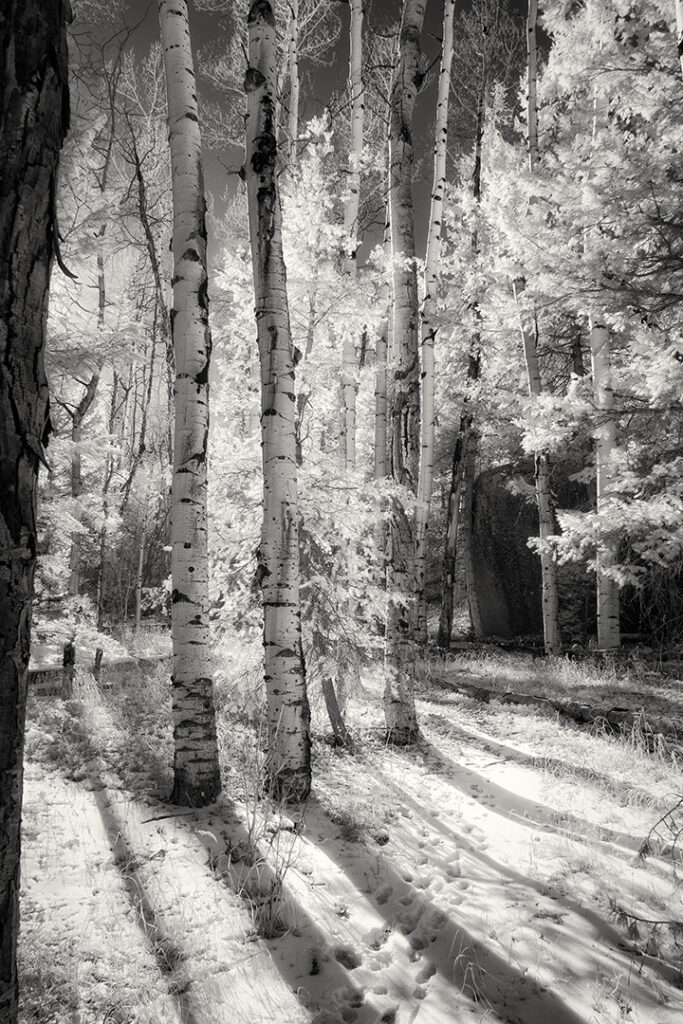 Christmas in Pike National Forest
During the 1980's and 1990's I enrolled in photography courses at several colleges, was a SA in a college darkroom, and fell in love with black and white fine art photography. My mentor, Suzanne Camp Crosby (herself a student of surrealist photographer, Jerry N. Uelsmann) introduced me to HIE film during my third semester of classes at a local Tampa college. It was love at first roll of film; I'd found my passion.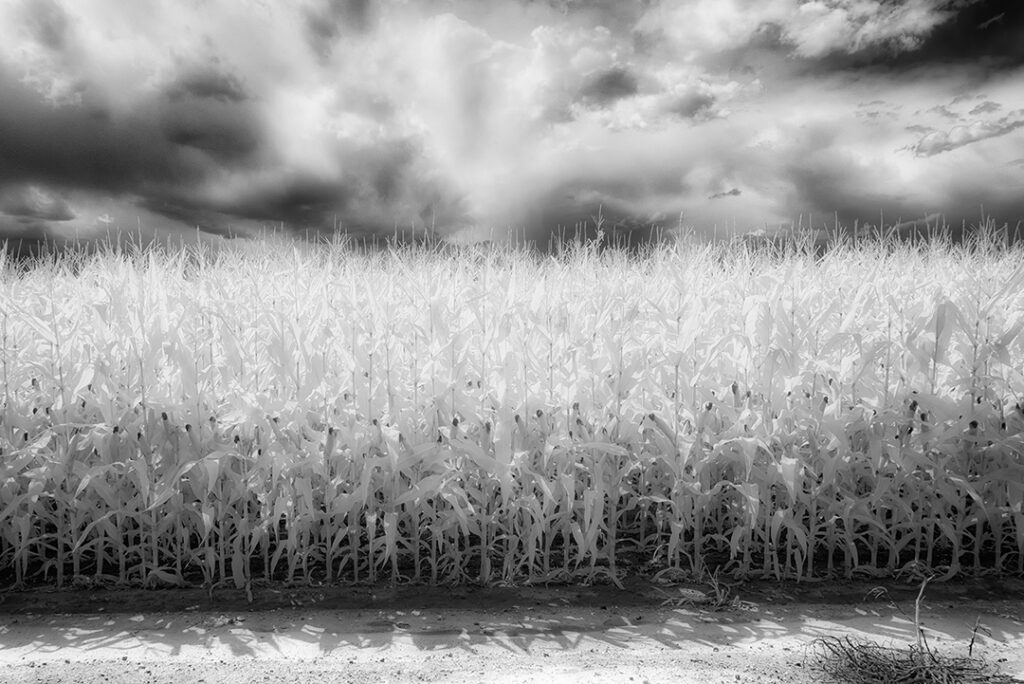 Colorado Corn
Joyce Tennyson says, "I very strongly believe that if you go back to your roots, if you mine that inner territory, you can bring out something that is indelibly you and authentic -like your thumbprint. It's going to have your style because there is no one like you."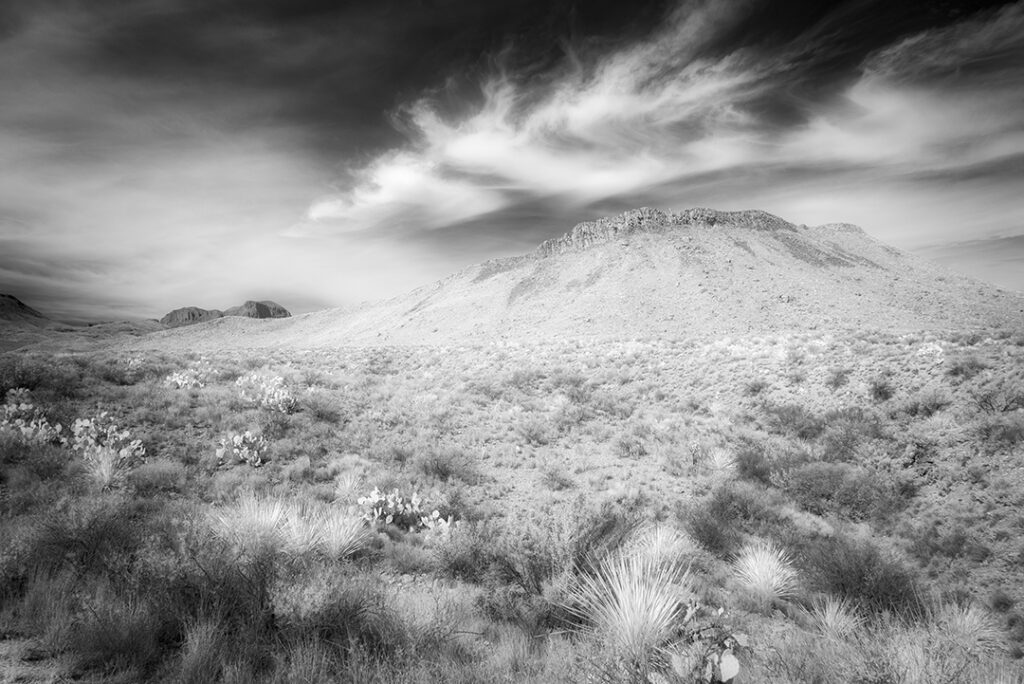 Morning in Big Bend National Park
In retrospect, it was infrared film that allowed me to reach back into my childhood to see the joy found in that nine year-old fantasy world and transpose it into my images today, like closing a circle.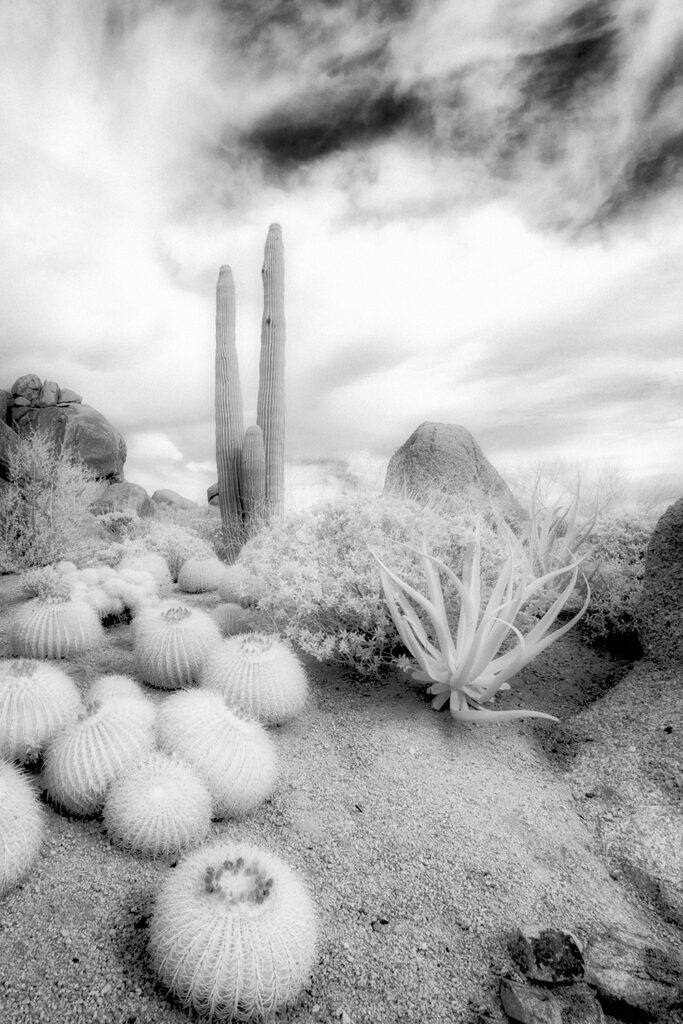 Carefree, Arizona
During the later years of photography courses, I focused solely on IR film, but also took workshops with Joyce Tennyson, Clyde Butcher and a weekend class with Jill Enfield, who was then hand coloring infrared images. Icing on the infrared image! I went out and bought a set of Marshall's Photo Oils to color with and matte paper to print my images on.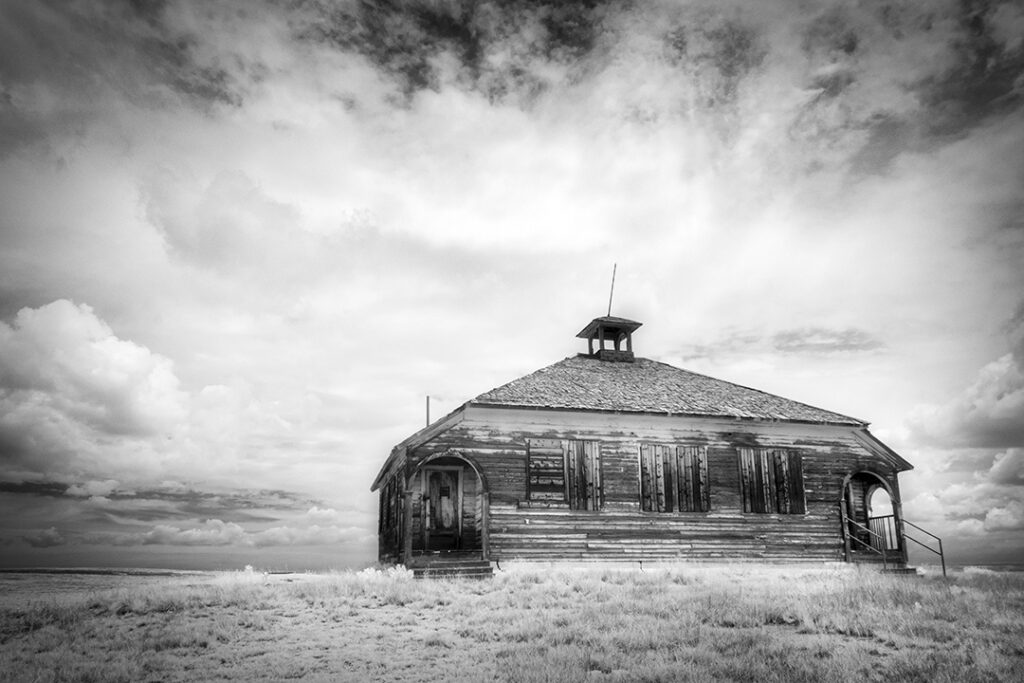 Aroya School
As the years passed digital arrived on the scene and, in 2007, I purchased my first converted Nikon D-70 with a 720nm. I've moved through three more cameras until finally choosing a Sony a7r mirrorless for its contrast, light weight and sharp images. During those early digital years, processing my images presented another learning curve so I took a few classes on the basics with the bulk of knowledge gained being self-taught.  I've finally achieved a level of comfort processing my images via Photoshop and Luminar.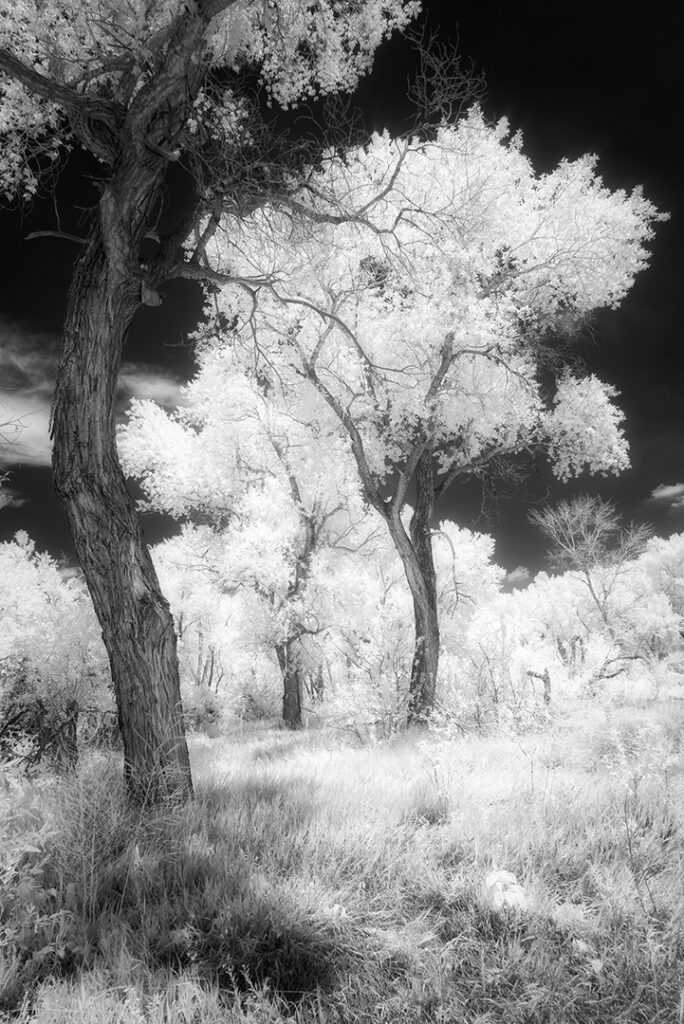 Cottonwoods in Chatfield State Park
Infrared photography has allowed me to explore my love of surrealism; it is my "thumbprint" in the world of photography and my passion.  A photographer friend said to me, "You see in infrared, Sherri!" I suppose that is true. Infrared allows me to connect to that little girl who preferred to see the otherworldly in her simple rural surroundings. Another element about infrared that thrills me – you never really know what you have photographed until it is processed; after all, it's invisible light!  For me, this adds to both the challenge and attraction of infrared as my favorite photographic medium.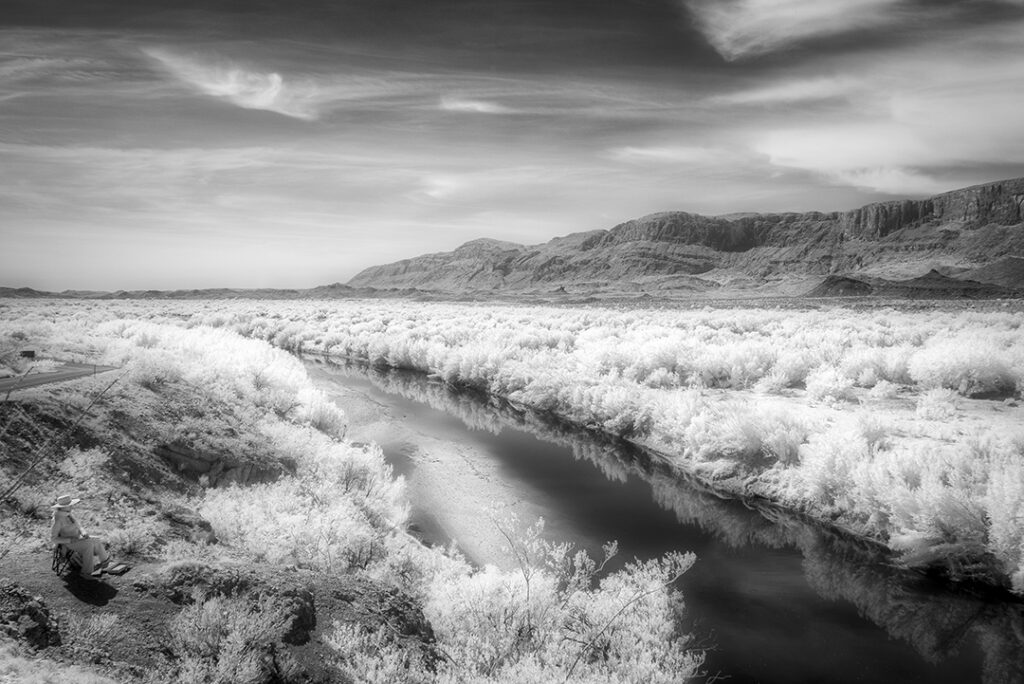 Borderland on the Rio
Moving back home to Colorado after 27 years of living around the world, a lot has changed since my childhood, yet the landscapes are still out there to photograph.  Infrared photography adores the austere ruggedness of the western scenes.  In particular, the skies and arid vegetation come alive via infrared.  I see the invisible light of the prairies and deserts in monochrome where so many other photographers see color-filled mountain views.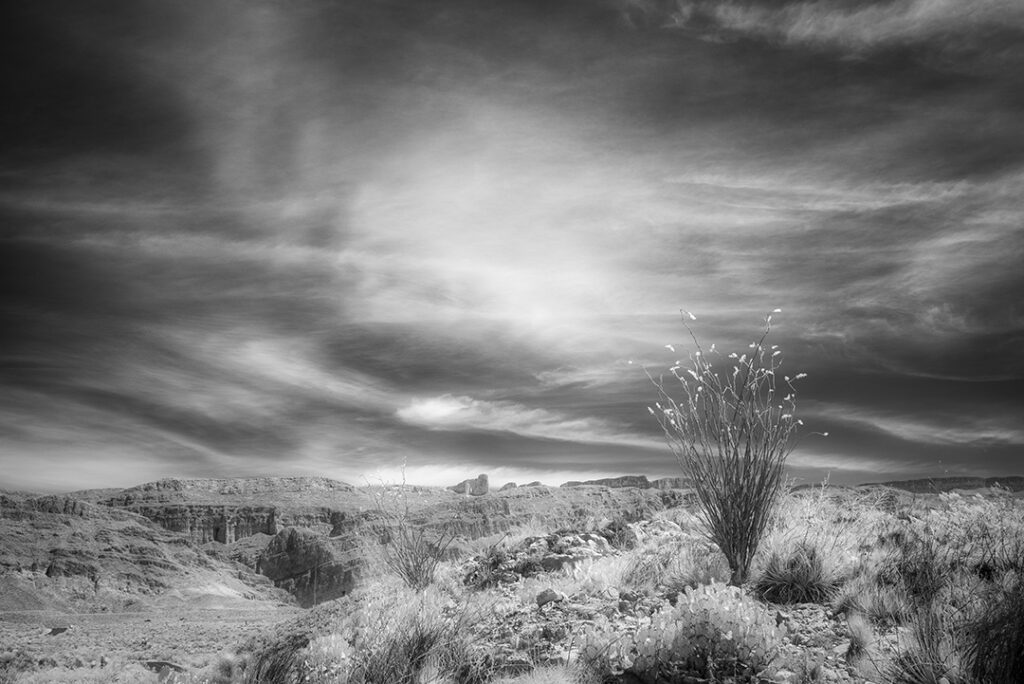 Big Bend Glow
I'm presently photographing a series on area farmhouses in Colorado before they disappear due to development, fracking and decay. Infrared is the perfect medium to preserve the memory of these homes and this era as it creates a dreamlike quality to the subject. A good friend of my recently commented on my farmhouse images, "I love the haunting quality of your photography. Your photos have an otherworldly sense of half remembered dreams."  Success in conveying those childhood memories, there is joy in that.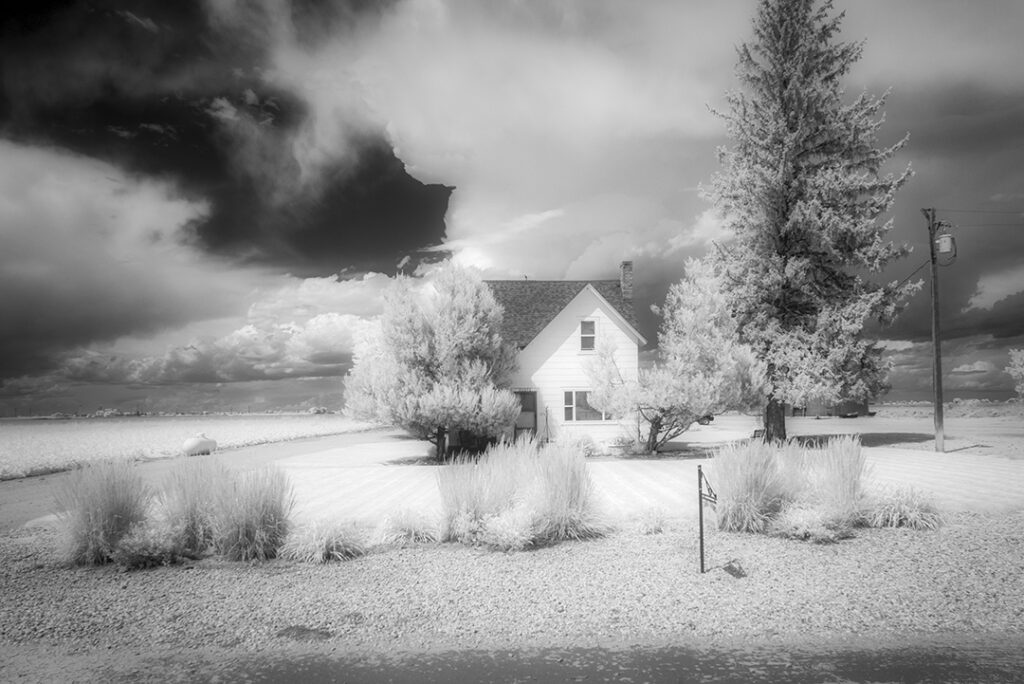 Tiny Farmhouse Northern Colorado
Website:     https://www.sherrimabeimages.com
Instagram: https://www.instagram.com/starlitwaltz/