Photography as an art is so much more than the technical. It doesn't matter what equipment you use as long as your images have something to say. In this monthly column, photographer Laurie Klein offers words of inspiration followed by our monthly photo challenge assignment to help you tap into the art and soul of your photography.
Photographic Winter Mindset: Seasonal changes and colder weather conditions are an acquired taste for infrared photographers. There is very little infrared-reflective light this time of year, which is why most IR photographers choose to shoot only in the warmer months. But the absence of IR light is what gives the image a uniquely dreamy look. In our book, Infrared Photography: Digital Techniques for Artistic Images, 2nd Ed., Kyle Klein Perler, Shelley Vandegrift, and I discuss photographing during the cold seasons. 
Here is an excerpt from the book:
"The season in which you are shooting can have a strong impact on your infrared photography. Generally, direct light creates better-defined shadows. The more indirect or diffused the light source is, the softer the shadows appear. Infrared light is stronger at midday because the sun has less atmosphere to travel through. In the winter, the sun is at a lower angle in the sky than it is in the summer. Because the sun is lower and does not pass directly overhead, the infrared light is weaker." 
IR in the winter months is challenging yet exciting. You can't depend on the reflective IR light, meaning the structure and composition of your images are essential to creating a strong image and enhancing your storytelling. I do love photographing infrared in the winter; you might too.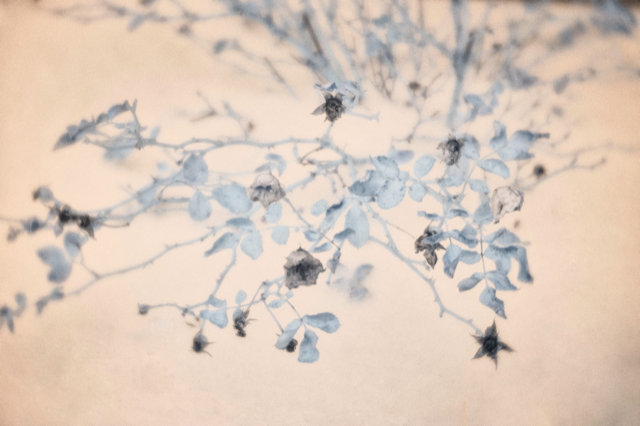 December's Infrared Assignment: Chilling Winter
Brave the cold and head out with your camera. What unique story can you tell with your images this winter? Post your photo on Instagram, and tag #kolariphotochallenge to submit your work. Winners will be selected in the first week of January. Tap into your art and soul of infrared.
Upcoming Zoom one-on-one infrared workshops: https://www.laurieklein.com/product/custom-infrared-workshop/
Upcoming Zoom Book Making Workshop: The Photographic Book: Quest and Creation