Why choose our Kolari R Clip-In filters?
Our Kolari R Clip-In Filters are the only clip-in filters on the market that attach via magnetic force. This allows for an easy hassle-free installation and removal process while also keeping your sensor out of reach in case of accidental damage. Our wide selection of NDs, IR filters, and our UV/IR Cut filter are capable of turning your Canon EOS RP, R, R5, & R6 into a versatile multi-spectral machine without having to purchase a multiple lens filters for each of your lenses. They're also coated with our anti-reflective/anti-smudge properties that make the filters much easier to clean while reducing stray reflections and artifacts from shooting in bright sunny weather. Want to shoot IR? We have a clip-in filter for that! Want to shoot normal visible light photography? We have a clip-in filter for that! Interested in using ND filters behind the lens instead of screwing on an external ND lens filter? We also have a clip-in filter for that!
Drop In Filter Compatibility:
Our Kolari R Clip-In Filters are fully compatible with our Kolari R Drop-In Filters. This means that you may not ever have to mount a filter to the front of your lens ever again!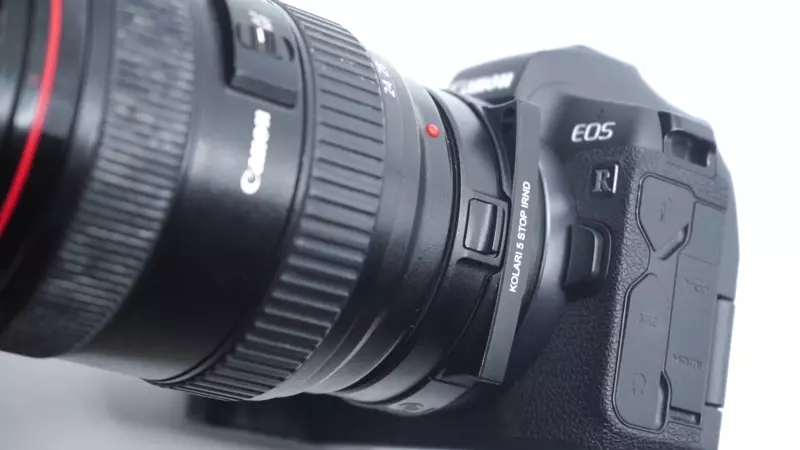 Frequently Asked Questions
Our Kolari R Clip-In Filters are compatible with the Canon EOS RP, R, R5 & R6. The Canon EOS RP has a non-magnetic plastic inner mount but we provide a magnetic mounting plate with our filters that easily convert your RP to be compatible with our magnetic clip-in filters. (This is not needed for the R, R5, & R6.)
Our Kolari R ND Filters are compatible with non-converted cameras but you will need a full spectrum converted camera to use the IR and UV filters featured in our filter line up. Interested in getting your camera converted? Feel free to contact us @ contact@kolarivision.com and we'll be happy to answer any of your questions regarding our conversion services!
Available to pre-order now! Orders will begin shipping out mid-June
(We initially launched these filters in a non-magnetic variation and upgraded to magnetic filters during the production process. All early non-magnetic Kolari R Clip-In Filters orders have been upgraded to the magnetic variation and fulfilled previous to us announcing the new Kolari R Magnetic Clip-In Filters.)
We're here to help you find the perfect product and get the perfect shot. Call or email us for any questions at all!