2021 Death Valley NP and Alabama Hills
January 26 @ 9:00 am

-

January 31 @ 12:00 pm

$1495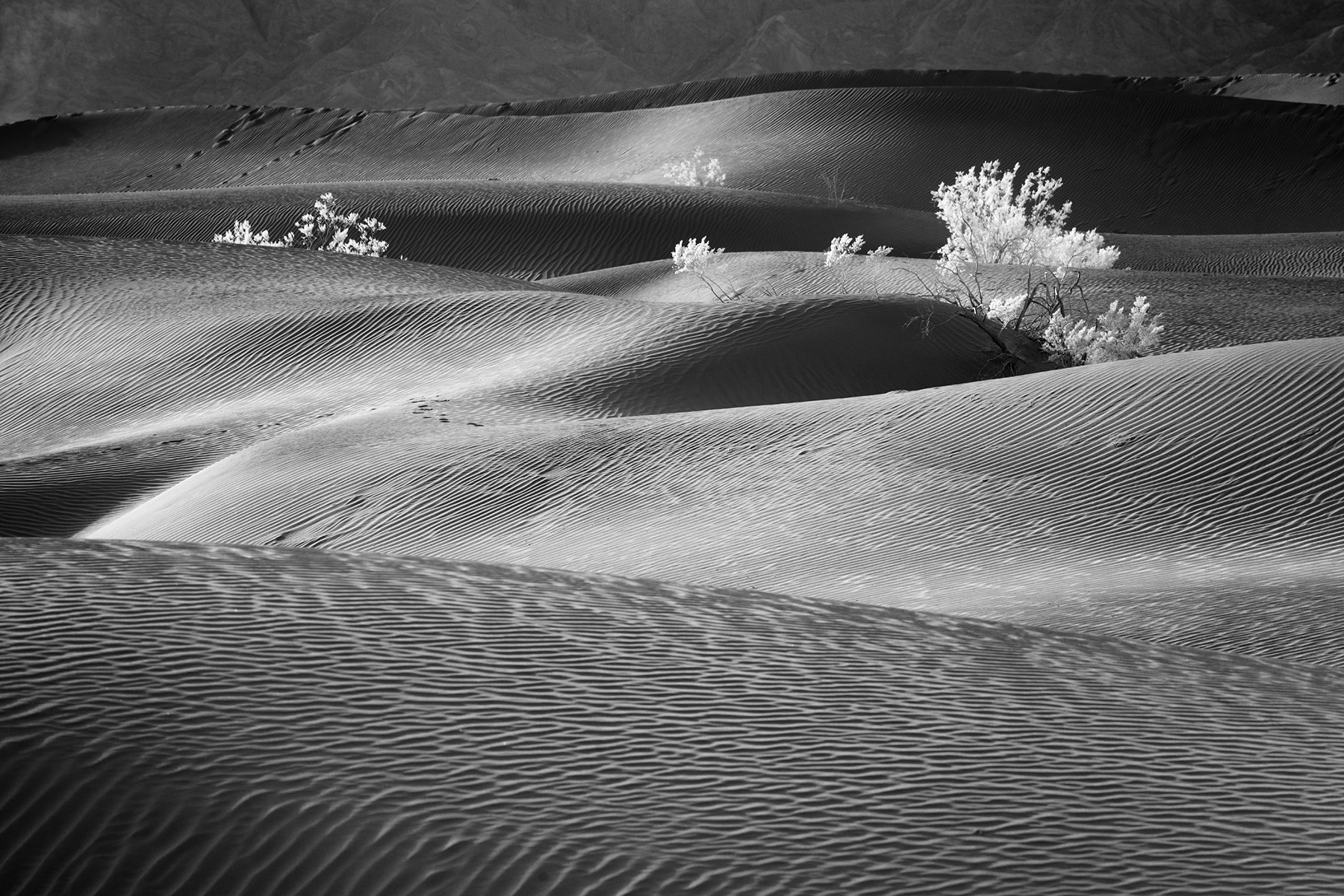 2021 Death Valley NP and Alabama Hills
Black-and-White Infrared Intensive Workshop
Date: January 26 – 31, 2021
Death Valley National Park, California
Alabama Hills National Scenic Area, California
Cost: $1495
Join us for a five-and-one-half day black-and-white infrared landscape workshop to explore infrared in some of the most desolate and unusual landscape in the US Southwest. We will spend three-and-one-half days in Death Valley National Park shooting a variety of landscapes at well-known spots such as Mesquite Flats Dunes, Zabriskie Point, Badwater Basin, and Dantes View at the edges of the day. We will also be out before sunrise to shoot stars and landscape lit by moonlight. This part of the workshop is scheduled around the time of the full moon in January.
We will then move on to the Alabama Hills National Scenic Area near the eastern slope of the Sierra Nevada in Owens Valley to shoot for two days. The Alabama Hills are the foothills and rock formations at the base of the dramatic snow-covered Sierra Nevada Range, which includes views of Mount Whitney (the tallest mountain in the lower forty-eight states at 14,494 ft).
Are you unhappy with the infrared images you are currently capturing? Ready to go beyond using third-party software plug-ins to process your infrared images? From using the right gear to capture and processing, this is a unique opportunity to learn how to create amazing black-and-white images at any nanometer.
You will be placed in the best locations to maximize the infrared light under existing conditions and you will receive individual help in the field to ensure a successful capture. There will be at least two 4-hour hands-on sessions in the classroom for processing your infrared images while learning how to manage workflow.
Class size is limited to seven. Reserve your spot now!
Cost: $1495 (hotel, meals, and travel not included)
Base Location #1: The Ranch at Furnace Creek, Furnace Creek, California (3 nights)
Base Location #2: Quality Inn, Lone Pine, California (2 nights)
Start: Tuesday, January 26, 2021 at 9:00am
End: Sunday, January 31, 2021 at 12noon
Skills Required: Thorough working knowledge of your camera from capture histogram to working in Live-View (mirrored cameras only); must be comfortable using Adobe ACR/LR and layers in Adobe Photoshop; must bring your laptop to the classroom.
DETAILS
Start: Tuesday, January 26, 2021 at 9:00am
End: Sunday, January 31, 2021 at 12noon
Cost: $1495
Website: kolarivision.com//kolarivision.com//www.pentaylorphotography.com/2021-bw-infrared-workshops/2021-death-valley-np-alabama-hills-workshop/
ORGANIZER
Penelope Taylor Photography
Email: penelope@pentaylorphotography.com
Website: kolarivision.com//kolarivision.com//www.pentaylorphotography.com/
Related Events