Differences in Color Sensitivity Between DSLRs and Compact cameras
If you shoot color infrared, a big consideration between choosing a DSLR and compact camera is the way color images will come out. For a 720nm filter, the differences are not very large, but for the 590 and 665 filters, the difference can be significant. These pictures below were taken with three different cameras, a DSLR (the Nikon D90), a M4/3 camera (the Panasonic G10), and a point and shoot camera (the Panasonic FH20). To make the comparison as controlled as possible, all three were converted with a clear full spectrum filter, and then the test shots were taken using the same external filter. All white balances were custom set using the in camera measurement, and the photos were taken minutes apart. The false color adjustment was performed using a red/blue channel swap and auto levels tool.
The 665nm filter
The 590nm filter
The differences between these cameras is quite striking, however it is important to note that the shooting conditions were on an overcast fall day, which is far from ideal and affects some cameras more than others.
While the G10 appears to have less color capabilities, this is not a shortfalling of its sensor, but rather due to the way the camera sets a white balance. With clear skies, the camera is able to produce a much more traditional effect:
665 filter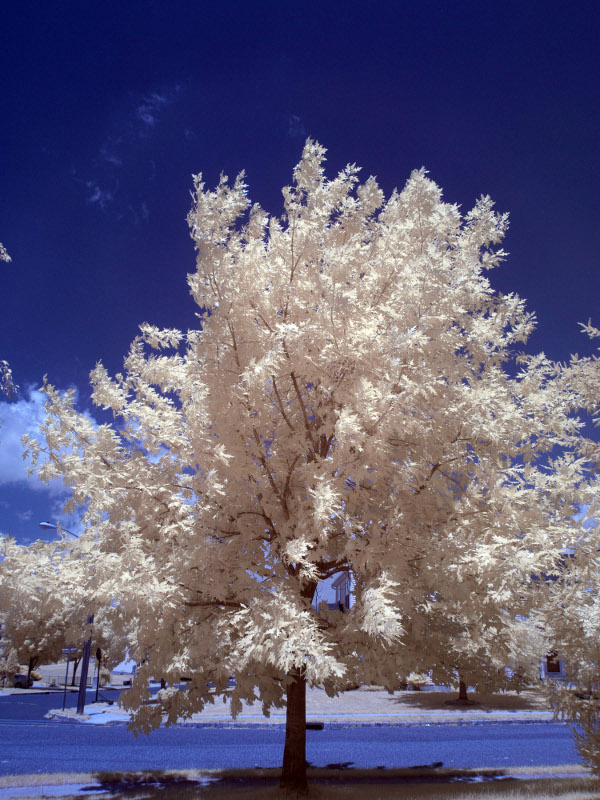 590 filter